Beautiful. Functional. Indispensable.
We call this stainless steel plate set No-Mess because you never mess with a good thing (and they're a good thing!).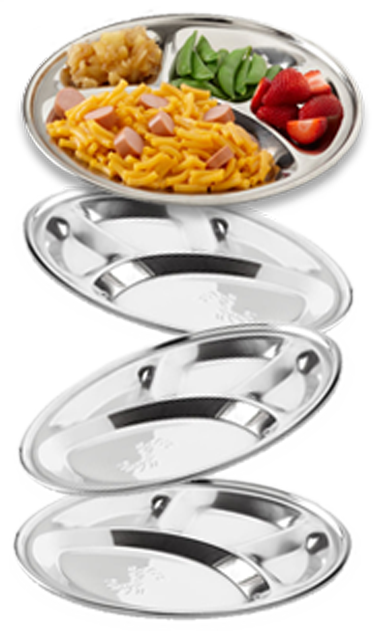 Don't just take our word for it. Hear what our customers have to say!
Exactly what I needed for on the boat. Don't want plastic that can blow overboard, paper stuff can't handle the humidity being stored there. Stainless is the way to go, good sized, match the description perfectly. Hoping the SS is higher grade and stays rust free. Will update if there are issues.
If you're in search of non-plastic, unbreakable divided plates, these are ideal. I finally said goodbye to all the plastic plates and cups for my kiddos, and we are using all stainless steel now. They're still toddlers, so we weren't ready for all ceramic yet. These are the perfect addition. They're a good size with multiple compartments. Bye-bye plastic, hello stainless steel camping-esque foodware.
I purchase these plates for my 2 year old because I didn't want to buy plastic for her. They are great and 4 is a perfect number to get through the day. The size is fine, a little more then she can eat now but that means we can use them for years to come.
It's made of 100% food-grade stainless steel. BPA-free and Toxin-free. Heavy duty. Multiple compartments. 4 plates per pack.