WHAT ARE TIFFIN LUNCH BOXES?
Ingenious design to keep whole foods whole.
Comprised of food grade stainless steel, the Happy Tiffin lunch boxes separates your courses into isolated, reusable compartments. Tiffins come in multiple styles to match your particular personality. And at the end of the day, just wash, rinse and reuse.
Beauty Meets Functionality
Tiffins are very eco-friendly. You're not only saving on brown lunch bags, you're also eliminating baggies, plastic wrap, aluminum foil and all those other "one-use" materials that are wasted for food separation. So you're basically saving a lot of trees and minimizing your waste contribution.
Don't just take our word for it. Hear what our customers have to say!
Exactly what I wanted....when I clean blueberries and strawberries I like them to be very cold !! These are great !! I can even throw this in the cooler for a healthy snack.........I kept strawberries in the bottom and whipped cream on the top !!! Excellent product !!!
Great size for school lunches! Been using it for a couple of months and while the hinges have loosened up a touch they seem secure.
Excellent quality. It is very convenient to use. Good to clean.
This is the minimalist Tiffin, it has the cleanest design of all the Tiffins that I've seen. Other Tiffins either have an unwieldy top handle that just hangs or the latches are more complex and ugly.
The bottom tier is my "Big Salad" the next tier I put 5 baking cups in and put almonds, walnuts, vitamins and calcium chews, ginger snaps and wheat thins in them. The next tier is fruit, and the final tier is a baggy with salad dressing and croutons for my salad!
I would like to thank Happy Tiffin for being so helpful. The product you provide is truly one of a kind and impressive. I hope to have the opportunity to purchase more tiffins from you guys in the near future.
Our tiffins are available in multiple stacking options for the most flexible functionality and featuring a beautiful design. Order your tiffin today and upgrade your lunch bag to lunch fab!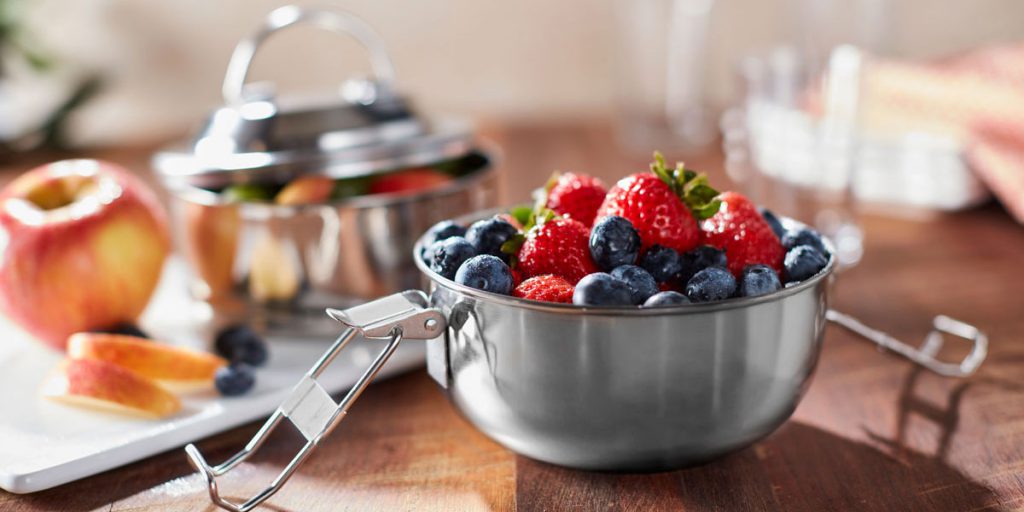 Tiffins existed before plastic containers.  In fact, almost every country has a version of these stacking containers. Our journey took us to northern India where we were inspired by this ingenious antique brass stacking container (see image). After several prototypes and testing – the Raja was born. A timeless tribute and unique contribution to the lowly lunch box.